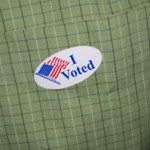 Local polling places appear to be seeing strong turnout in Tuesday's federal and state partisan election.
On a tour of few polling places between about 5 and 6 p.m., the longest lines were at Salem Town Hall. Several voters told us that they were told that paper ballots had run out late this afternoon and for a while voting was only able to be done on two electronic machines. By 5:30 p.m., when I was there, paper ballots were being used again, but there were easily over 100 people waiting to vote in a long winding line inside the building. A voter who arrived at about 5 p.m. waited about 50 minutes to vote, but another who arrived at about 6 p.m., waited only about 15 minutes.
In Paddock Lake, village Clerk Emily Uhlenhake said they had plenty of ballots and no equipment breakdowns as of about 7 p.m., but turnout was strong for a fall election not involving president. The most ever voters for this election was four years ago, with 978 voters. With 925 at about 7 p.m., Uhlenhake said she expected well over 1,000 voters total today.
Voters were coming in and out steadily at  Silver Lake Village Hall before 6 p.m., but there was not a long line.