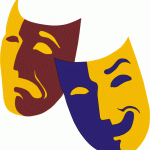 Central High School Performing Arts is proud to present the fall musical, "Anything Goes."
Set aboard an ocean liner with classic songs by Cole Porter, this tap dancing musical will have you humming the tunes, tapping your toes, and laughing in the aisles.
Discounted Pre-Sale Tickets are currently available now only $8 for Adults, $6 for Students/Senior Citizens, Children aged 5 and under free. Sale prices through Nov. 8. Discounted tickets are $2 off the regular ticket price.
Performance dates are: Nov. 21 at 7 p.m., Nov. 22 at 7 p.m., and Nov. 23 at 2 p.m. at Central High School, 24617 75th St., Paddock Lake.
To reserve seats, please complete the online order form on the schools website (click here). After submitting the form, a confirmation email will be sent with instructions on how to pick up tickets along with the balance due.