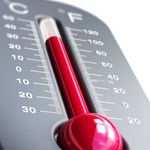 The high temperature here on Monday is expected to be an unseasonably high 73, says the National Weather Service forecast.
But it just gets cooler after that, with a high in the mid 40s just in time for Halloween trick or treating on Halloween.
There also is a 40 percent chance of rain tonight with scattered rain and thunderstorms in the area. There will be a 20 percent chance of rain Monday and a 70 percent chance of showers Monday night.