Town of Salem Fire and Rescue spent fire prevention week teaching the children at Salem and Trevor grade schools about fire safety.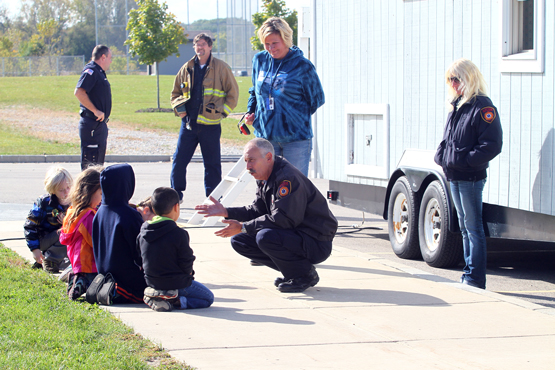 They used a variety of teaching methods, including classroom, fire safety house, and a live fire demonstration, showing how fast a fire grows.
This year's Fire Prevention Week message is "Working Smoke Alarms Save Lives" and was the theme of a coloring contest for 3rd and 4th graders. The winning posters are framed and displayed in the fire station for the next year. Prizes are awarded for the first three places. First prize is a $40 gift card and a ride to school on a fire engine.
One first place winner has already collected on the ride to school.
Chloe Haas was picked up and taken to school by Salem 5811.

Trevor winners:
3rd grade
Dylan Mulcahy
Molly Jackson
Alyson Kiernan
4th grade
Lily Backe
Rilie Maslon
Alexis Joseph
Salem winners:
3rd grade
Brianna Wetter
Mallory Drakes
Hailey Bridges
4th grade
Chloe Haas
Mackenzie Cain
Holley Welch