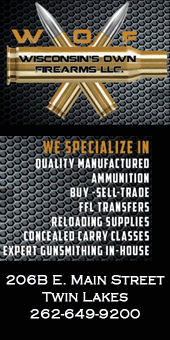 Note: Wisconsin's Own Firearms LLC is a westofthei.com advertiser — DH
Wisconsin's Own Firearms will be hosting Concealed /Carry Classes on Oct. 15 from 5 to 9 p.m. and Oct. 18 from 9 a.m. to 1 p.m. at its Twin Lakes location.
The 4-hour CCW training covers the following topics: Firearms Safety, Function, Ammunition, and Legal Aspects and Considerations for carrying a firearm.
All students receive a Certificate of Training and an Affidavit of Training. Additionally, you will receive a stamped application for Utah Non-resident CFP permit, recognized in over 30 states.
Wisconsin's Own Firearms' curriculum meets and exceeds State of Wisconsin training requirements.
Seating is limited, please contact Wisconsin's Own Firearms as soon as possible to reserve your seat at 262-649-9200.
Wisconsin's Own Firearms is located at 206B E. Main St., Twin Lakes.