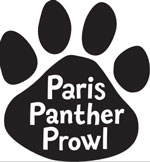 Paris School is excited to invite the community to join their students, families and staff for their unique "fun"raiser, the Panther Prowl .
The Ninth Annual Panther Prowl Walk-a-thon will be held on Saturday, Oct. 11, from noon until 5 pm at Paris Consolidated School located at 1901 176th Ave. in Paris. This year's campaign for pledge support has the students working diligently to raise funds for the school's music and arts programs as well as ongoing technology and playground upgrades.
There will be a ribbon cutting ceremony at 12:30 p.m. celebrating the results of two years of fundraising efforts.
The Panther Prowl features students walking laps in exchange for pledged donations. Also at the Prowl will be: silent auction, bake sale, sponge toss, and children's games. Lunch and snack items will be for sale.
Event premier sponsors include: Billingsley Engineering, Birchwood Foods, Graphics, Inc., Great Lakes Dragaway, Hartnell Chevrolet, Maxon Equipment, MC Productions, Somers Sportsman's Rod and Gun Club, and Woofman's Lodge.
This event is Paris School's largest fundraiser supporting technology in classrooms, educational enrichment for students, and enhancements for the school. This fun, family-oriented event is an amazing success year after year because of the generous support from local businesses and is a 100 percent profit fundraiser.