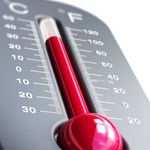 Today's temperature will not feel like yesterday.
Yesterday's high reached 80 degrees at the Kenosha Airport.
Today, the high temp is expected to reach just 58 today, a one day swing of 22 degrees, the National Weather Service forecast says.
If you not a fan of the chill, there's good news for you yet. High temperatures are expected to be back in the 70s and 60s after today, at least before Saturday.