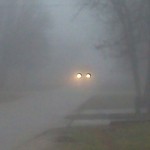 A dense fog advisory has been issued by the National Weather Service for our area this morning.
The advisory will be in effect until 9 a.m.
Areas of dense fog may reduce visibility to a quarter of a mile of less, the advisory states.
After the fog, it should be a very nice day, with a high temperature of 74, mostly sunny skies and a  5 mph wind.