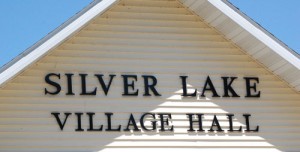 The Silver Lake Village Board approved a resolution to authorize applying for a loan from the Wisconsin Board of Commissioners to fund storm water repairs in the village.
The loan amount is $530,000. It will have a term of 20 years and 4.25 percent interest.
Village President Sue Gerber said the village initially sought a loan from Peoples Bank, which has a branch in the village, but the bank withdrew because of the uncertainty around the upcoming November village government dissolution  referendum.
Village attorney Linda Gray said passing the resolution doesn't necessarily mean the village will borrow the money ultimately. The commissioners will not be able to meet to approve the loan until next month, which could be too late to start storm sewer work.
If the village does not dissolve and it had received the loan proceeds, it could prepay the commissioners loan if it could get better terms from Peoples, Gray said.
The resolution passed with Trustee Patrick Dunn voting no and Trustee Mike Decker and Chris Willkomm absent.