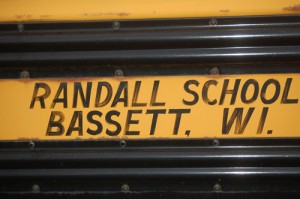 Randall School Board electors passed a property tax levy Monday that showed no increase.
The $4,319,627 levy was the same as last year's.
The levy was approved without dissent at Monday's district annual meeting. At the annual meeting, all present residents of the district may vote on certain items such as the tax levy.
Local property tax accounts for 60 percent of the district's revenue.
The district's budget — the amount it anticipates spending — was approved with net total expenditures of $7,951,453 a 2.14% increase from last year.
There was some discussion of a revenue limit penalty of $54,929, enacted by the state. This related to an error in third Friday student count last year that led the district to over levy last year, district administrator John Gendron said. Some open enrollment students were counted as resident students, probably because they joined the district outside of the typical open enrollment period.
Administration has reviewed the situation and put a system in place to head off the error this year, Gendron said.
"Our number will be accurate or the 2014 third Friday count," Gendron said.
To compensate for the error, the state reduced the district's last open enrollment aid payment, Gendron said. But the district will be able to recoup the funds in the 2014-15 budget.
This year's budget includes using $98,194 from the district's fund balance (savings or reserves). That's up from the 2013-14 budget, when $74,367.71 was taken from fund balance.
Working to develop a balanced budget, with no use of fund balance, will be a priority for administration, Gendron said.
Gendron said measures the district plans to undertake along those lines include:
Examine current programming.
An insurance benefits study.
Studying the compensation model.
Undergoing a facilities study.