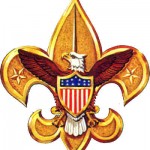 Boy Scouts of America Venture Crew 328 is having a garage sale on Saturday, Sept. 13 and Sunday, Sept. 14. from 9 a.m. to 5 p.m. both days at 25850 100th St. in Salem.
This sale is a fundraiser for the group who will be going to Philmont Scout Ranch in New Mexico in 2015 and will also help with other activities throughout the coming year.
Many families are contributing to the sale and have a wide variety of items for sale: furniture, household items, clothing, collectibles, home décor, puzzles, toys, games, etc. There will be drinks and baked goods for sale also.