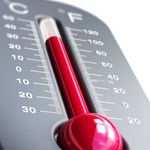 That blast of mid summer feeling weather we received recently is going to be gone starting today, says the local National Weather Service forecast.
Today's high is forecast for 72. High temps through Wednesday should be about the same before dipping down into the 60s Thursday and Friday.
There's no chance of rain in the forecast for today, Sunday and Monday. A chance of rain creeps into the forecast Tuesday night and sits at 50 percent for Wednesday, and then tapers off again Wednesday night through Thursday.