Paddock Lake, like Twin Lakes before it, has informed Silver Lake that its decision about whether to participate in sharing the cost of a new library building in Silver Lake will wait until after the Nov. 4 Silver Lake village government dissolution referendum.
Silver Lake, through its attorney Linda Gray had contacted the municipal attorneys of the other Community Library members to propose cost sharing on the building. Silver Lake committed to purchasing the building for $200,000 with another $50,000 planned for improvements to the building, which last housed a day care facility.
Twin Lakes tabled consideration of the request at a Village Board meeting in August. President Howard Skinner suggest waiting until after the dissolution referendum.
Paddock Lake's response was similar, if a bit more formal. A letter, written by Paddock Lake's attorney Jeff Davision was sent to Gray. In part it reads:
I have been requested to advise you, on behalf of the Village of Silver Lake, that the Village Board for the Village of Paddock Lake is not presently interested in participating in the purchase/remodeling of the 209 S. Second Street property owned by Silver Lake. In light of the upcoming referendum for de-incorporation of the Village of Silver Lake, the Paddock Lake Board would prefer to wait to see what the results of that vote are since it will obviously impact ownership and/or any intergovernmental agreements going forward.
Residents of Silver Lake petitioned to place a referendum on the Nov. 4 asking whether the village government should be dissolved.
Late last year, the Silver Lake Village Board unanimously voted to purchase the building on Second Street to serve as a Silver Lake library branch. The village is borrowing $250,000 — $200,000 for the building and $50,000 for renovations. Silver Lake officials assumed — based on discussions at the Library Board level — that each of the five members of the Community Library system would contribute $50,000 toward the purchase. Salem electors approved contributing $50,000, but the other members of the library system — Paddock Lake, Twin Lakes and Randall — have not acted on the matter. The Community Library cannot own or buy real estate. Any property purchased or owned must be done through member municipalities.
Following are some proposed cost sharing plans from Gray's letter: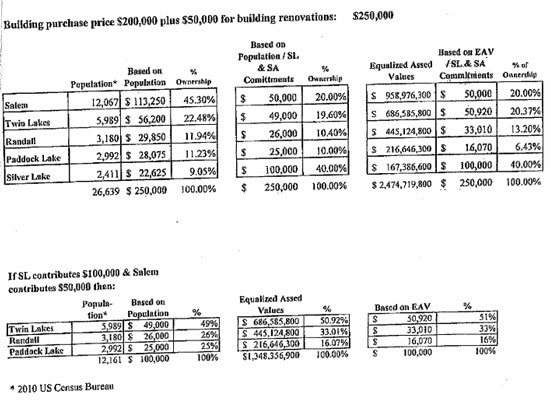 Davison's letter also mentions that the current location of the Silver Lake library branch, which had been in foreclosure, might now be available for renewal of a lease from new owners. Davison represented the bank in the foreclosure action. (The entire letter is available here.)
Silver Lake village President and Community Library Board member Sue Gerber said Wednesday that the new owners have in fact extended an offer to the library to lease the space for another year.