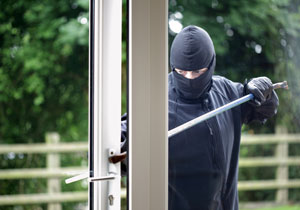 Note: Affordable Alarms is a westofthei.com sponsor. — DH
Affordable Alarms offers effective security for your home at a reasonable onetime cost.
Affordable Alarms was founded by Powers Lake native and experienced law enforcement officer Bryan Pelz. A sheriff's deputy for the last 19 years, he mainly patrols areas west of Highway 45 in Kenosha County.
"In the last several years I have realized how much of my time has been spent taking theft and burglary reports," Pelz said. "Many of those burglaries were in nice west end neighborhoods. In one day I took between 5 and 7 burglaries in the same neighborhood."
But those burglaries might have been avoidable.
"What I realized was many of the theft and burglary reports I take could have been avoided if residents would have taken small steps to protect themselves," Pelz said. "The biggest thing I noticed is people with alarm systems rarely ever get burglarized. In fact, in my 18 years I have never taken a report of someone taking items from a home that had a working alarm system."
Such a system doesn't have to be expensive.
"I realize most people live on a tight budget and cannot afford several hundred dollars for an alarm system just to be trapped in a three-year contract and $35 to $50 month fees," Pelz said. "That's a lot to ask when people live pay check to pay check. For the last eight years I have been testing many different types of alarms and I put together a very simple but effective and cost friendly alarm system."
For example, outfitting two doors and eight windows costs just $116 with Affordable Alarms.
Pelz comes out to his clients homes and evaluates their property, giving his professional opinion on how to make their home more secure from possible thieves or what they can do to protect and even recover their property if lost or stolen. Pelz then demonstrates his alarms and informs his potential clients of what type of alarm would best secure their home. He gives a price to install the alarm.
"I do this with no sales pressure," Pelz said. "I offer a 90 day warranty on all alarms and I do all the work myself."
Contact Bryan Pelz at Affordable Alarms for a consultation today at 262-818-8054 or affordable.alarms@yahoo.com