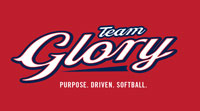 Team Glory Fastpitch Softball recently threw out its first pitch by having tryouts in Trevor.
Team Glory's leaders define it as a "Purpose Driven Fastpitch Organization that gives girls the opportunity to grow as players and people in a purpose driven softball community." Team officials are working to field four teams from the pony league (girls from the age of 4 – 7) through 18 year old young ladies.
Team Glory asks the players, parents, coaches, and community to participate in the vision of bringing the greatness out of each other.
Purpose – To play for something bigger than ourselves
Driven – To be fierce competitors on the field
Softball – To bring the best resources to rally around our athletes
Team Glory was formerly known as Virginia Glory Fastpitch founded by Suzy Willemssen. Team Glory has a solid program on the East Coast based in Virginia. They field 7 strong teams with national exposure with their 14u, 16u, and 18u Gold Progam. Team Glory Midwest will field four teams for the 2014 -2015 season. The combined locations give Team Glory 11 solid teams nationwide.
For my information please visit www.teamgloryfastpitch.org or contact Jose Vazquez the Midwest Regional Vice President at 262-620-0654  jv@teamgloryfastpitch.org or Suzy Willemssen the founder at 703-298-8706 suzy@teamgloryfastpitch.org.