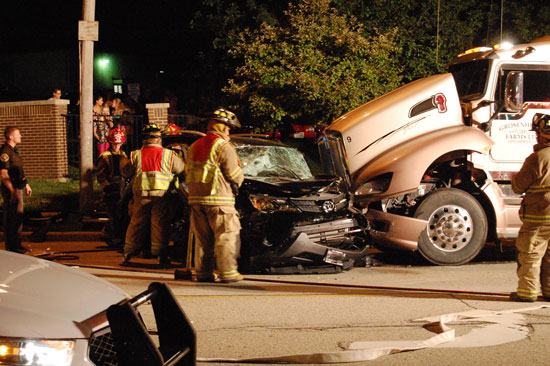 At about 9:24 p.m., Town of Salem Fire/Rescue units and sheriff's deputies are responding to a report of a crash in about the 24600 block of Highway 50 (75th Street) in Paddock Lake.
Per dispatch: Crash involves a car and a semi-truck. Personnel on scene reporting major damage to vehicles.
UPDATE 9:25 p.m. — Second ambulance requested to the scene. Someone may need to be freed from a vehicle. Eastbound traffic being stopped on Highway 50. A vehicle may have crashed into the fence in front of Central High School.
UPDATE 9:45 p.m. — I am on the scene, two people were trapped in the car.
UPDATE 9:50 p.m. — One occupant is out of the car, one person still trapped in vehicle.  One ambulance has left the scene with a patient.
UPDATE  9:56 p.m. — Firefighters appear  to be working to cut off roof of the car.
UPDATE 9:59 p.m. — Roof off of car.
UPDATE 10:07 — Second patient in an ambulance.
UPDATE 10:29 — Second ambulance leaving the scene with patient.
UPDATE 10:56 — Back from the scene. It appears that the car involved crashed through the iron fence from the Central HS parking lot and then entered the east bound lanes of Highway 50 and into the path of the truck. The truck driver appeared to be uninjured. The two patients in the car experienced non-life-threatening injuries, Salem F/R Chief David Slover said.
UPDATE 9:25 a.m. Aug. 20 — Additonal information from Sheriff's Department: Driver experienced an unknown medical event. Car drove through fence and into Highway 50 and path of semi. Injuries confined to fractures. No traffic citations issued. Highway 50 closed for about two hours.