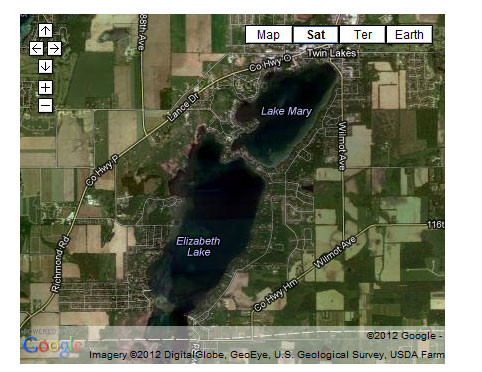 The Twin Lakes Village Board is considering lifting or modifying a ban on landing seaplanes on Lakes Mary and Elizabeth.
But after a Committee of the Whole meeting Monday it's not clear what course of action would have the support of a majority of the board. That in part was because three board members — President Howard Skinner and Trustees Aaron Karow and Jeremy Knoll — were absent for discussion of the issue.
A ban on landing seaplanes on the lakes appears to have been in effect since at least 1997, though why it was enacted was not known among the officials at the meeting.
Repealing or modifying the seaplane ban came up after Knoll sought to land a plane on Lake Mary in conjunction with the upcoming screening of the movie Planes at Twin Lakes Movies in the Park. Knoll is a dealer for a light aircraft company.
Police Chief Dale Racer said some other lakes in the area do allow the landings, notably Silver Lake. Racer said he consulted with the police department there and found that the landings have not been problematic. When some people have landed on Lakes Mary and Elizabeth, they have been ticketed Racer said.
He did not have a professional opinion on the ban either way, Racer said.
Most opposed to lifting the ban was Trustee Sharon Bower.
"I think we're asking for problems," Bower said.
Trustee Kevin Fitzgerald appeared to be willing to consider some type of modification of the ban that might allow landings on either lake with a permit or only on Lake Elizabeth, which is larger and in his opinion less crowded.
"If it's going on on other lakes, what is the rationale for not allowing it on the largest lake in Kenosha County?" Fitzgerald said.
Bower said she was not sure she would support allowing landings with a permit.
During the same discussion, the board also talked about other possible modifications to the same ordinance.
Village administrator Jennifer Frederick had added a provision banning flyboarding on either lake. Here is Wikipedia's description of flyboarding: "A Flyboard is a type of water jetpack attached to a personal water craft (PWC) which supplies propulsion to drive the Flyboard through air and water to perform a sport known as flyboarding. A Flyboard rider stands on a board connected by a long hose to a watercraft. Water is forced under pressure to a pair of boots with jet nozzles underneath which provide thrust for the rider to fly up to 15 metres in the air or to dive headlong through the water."
Frederick said she felt the relatively shallow depth of the lakes warranted consideration of banning flyboarding, due to the diving into the water aspect of the activity.
The board members present also agreed that removing set hours for driving vehicles on the frozen lakes made sense.