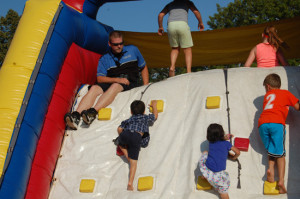 Twin Lakes Police Department and Twin Lakes Fire and Rescue will host National Night Out on Tuesday, Aug. 5 at Saint John the Evangelist Catholic Church,  701 N. Lake Ave, Twin Lakes.
The free event begins at 5 p.m. and continues to 8 p.m.
National Night Out is a free event hosted by public safety departments around the country to build partnerships between public safety personnel and residents in an effort to increase awareness and reduce crime.
The introduction of National Night Out, "America's Night Out Against Crime", in 1984 began an effort to promote involvement in crime prevention activities, police-community partnerships, neighborhood camaraderie and send a message to criminals letting them know that neighborhoods are organized and fighting back. NATW's National Night Out program culminates annually, on the first Tuesday of August. For more information about this effort, visit www.natw.org.