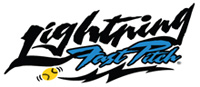 The WI Lightning 18U Black won their first 2 bracket games on Wednesday at the 2014 ASA/USA Girls' A 18-U Fast Pitch National Championship in Montgomery, AL.
After finishing first in their pool with victories on Monday and Tuesday, the Lightning started bracket play Wednesday with a 6-0 victory over the Clearwater Lady Bombers, Clearwater, FL.
The Lightning started quick with a 3 run first inning on a 2 out 2 rbi single by Bridget Nelson (Kenosha Tremper) that plated Ashley Madsen and Larkin Langston (Westosha Central), and an RBI single by Sara Terrian that scored Justine Schattner (Wilmot). They added another run in the second on an RBI double by Madsen that scored Brittney Blazich (Westosha Central), who had reached on a single, to make it 4-0.
In the 5th, the Lightning added 2 more insurance runs on consecutive RBI singles by Terrian and Lauren Orszula (Wilmot) to finish the scoring at 6-0.
The battery of pitcher Courtney Ellingson and catcher Liz Fonk (Westosha Central) combined on the complete game 4 hit shut out. The offense was lead by Terrian and Madsen with 3 hits a piece, Orzula and Schattner with 2 a piece.
In their 2nd winners bracket game of day, the Lightning beat Birmingham Vipers, Birmingham, AL 5-3.
The Lightning got on the board in the top of the first after Blazich lead off with a single, stole second and third and scored on a Madsen double to left. Schattner followed with a 2 out RBI single, scoring Madsen to give them a 2-0 lead.
Lightning struck again in the top of the second after Liz Fonk drew a 1 out walk, Blazich bunted for a base hit. After Madsen moved the runners to second and third, Langston followed with a big 2 out 2 RBI single to center making it 4-0.
The Vipers scored 3 in the 4th making it 4-3.
The Lightning got an insurance run in the 6th on a 2 out single by Langston and an RBI right centerfield double by Ellingson making the score 5-3 which stood up.
Kali Kaestner got the win allowing 2 earned runs on 8 hits with 4 strike outs and no walks. The offense was lead by Blazich with 4 hits, Langston 3 hits and Ellingson 2 hits and a walk. Defensively the Lightning was lead by Kerrigan Patterson (Wilmot), Fonk and Schattner.
The Lightning advance to play Snohomish Shock, Snohomish, WA Thursday 5pm at Fain Park, Montgomery, AL in a winners bracket game.
Members of WI Lightning 18U Black are: Larkin Langston, Liz Fonk, Brittney Blazich (Westosha Central); Justine Schattner, Lauren Orszula, Kerrigan Patterson, Jessica Spahn (Wilmot Union); Bridget Nelson (Kenosha Tremper); Courtney Ellingson (Racine Case); Sara Terrian (Waterford); Kali Kaestner (Mukwanago); and Ashley Madsen (Kettle Moraine).
The coaches are Robert Madsen, Kevin Orszula, Steve Spahn and manager Scott Hermes.