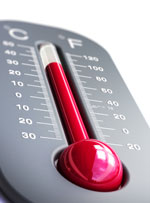 The National Weather Service forecast says it will be hotter today than we've seen around here in a while.
The high temperature is forecast for about 89 degrees. High humidity could mean heat index values from 95 to 100 degrees.
The NWS says there is a 20 percent chance of a thunderstorm today and a 40 percent chance of one tonight.
Temperatures are expected to cool off considerably Wednesday and Thursday, with a high in just the low 70s.