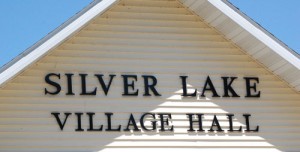 Questions from village President Sue Gerber about the procedure followed by those seeking a dissolution referendum in Silver Lake apparently will not stop the vote from happening.
Gerber said the signatures for the dissolution were presented as a direct resolution petition instead of under the provision of the state statue governing the dissolution of a village.
The group gathered over 400 signatures on a petition asking the village for a vote on whether it should be dissolved. The signatures were certified as a dissolution petition by village Clerk Terry Faber last week.
Gerber said Wednesday that the petition was presented incorrectly, and questioned whether it was valid.
"I don't agree that it should be accepted as it was," Gerber said.
But village attorney Linda Gray said she advised Faber to certify the petition because Gray's research suggested that the intent of the petitioners was clear — to hold a referendum on whether the village should be dissolved.
"People knew what they were asking the  board to do and they expected it to go to referendum," Gray said.
Consequently, the referendum will be held Nov. 4, Gray said.
Gerber's position received no support from other board members (Trustee Chris Willkomm was absent and Trustee Pat Dunn was absent for the second consecutive meeting. Note: I initially forgot to include that Trustee Willkomm was absent as well. Sorry about that. — DH).
Trustee Michael Decker argued in favor of proceeding with the referendum, pointing out that about double the amount of signatures were gathered for the  dissolution referendum as the earlier contracting services with Salem referendum that also will be on the November ballot.
"To me this is a simple decision," Decker said. "To me that's a problem solved — put it to referendum have an up or down vote …."
If two-thirds of the voters opt for dissolution, the village government will have six months to wrap up its business after which the area now in the village will become part of the town of Salem.