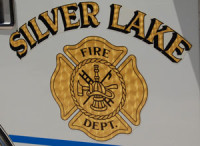 Though their latest chief has resigned, members of the Silver Lake Fire Department are still committed to responding to calls and will be toned out when appropriate, village Trustee Roger Johnson said Wednesday night.
SLFD Chief David Kordecki resigned via letter earlier this week. He was appointed chief by the Village Board on June 18. Kordecki was the third person to resign as chief since mid May. Andrew McFarlane retired as chief and a member of the department on May 13. Interim Chief Roger Pattie resigned as chief on May 21, but remained a member of the department.
Johnson, chairman of the Emergency Services Committee, said he did not have an immediate replacement for Kordecki, but that he met with department personnel in the wake of the resignation. Johnson said the meeting was positive and department personnel were committed to continuing to answer calls.
"They're all very willing to keep things rolling," Johnson said.