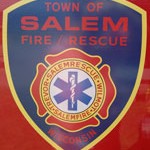 Purchasing a thermal imaging camera for one of the Town of Salem Fire/Rescue engines was approved by the Salem Town Board Monday.
The camera will cost $9,895 and replace a 15-year-old unit. The price represents a close out special discount from the original price of $17,901, said Fire Chief David "Mike" Slover.
The cameras are used to identify hot spots — which can be people — inside a burning structure, Slover explained.
5 Alarm Fire and Safety Equipment will include a truck mounted charger, valued at about $1,200, for free Slover said.
Each engine currently carries a thermal imaging camera. The units can be expected to last 5 to 10 years, Slover said.
Eventually, Slover would like to also acquire a unit for the vehicle used by the on-duty battalion chief.