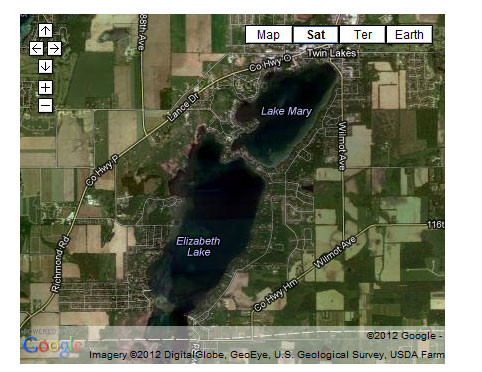 A slow, no-wake order on Lakes Mary and Elizabeth will have to remain in effect until the level as measured at the boat launch gauge on Lake Elizabeth is below the level stated in a village ordinance, the Twin Lakes Village Board announced at a special meeting Thursday evening.
The board held the special meeting to consider a resolution to lift the slow, no wake order for the holiday weekend.
But after consulting with the village attorney, the baord found its hands were tied, said village President Howard Skinner.
"Because of what the ordinance states, we don't have the ability to arbitrarily lift the slow, no wake restriction," Skinner said. ""I would love to have the lake open, but our attorney says we cannot do that."
The board did not act on the resolution.
Slow no-wake goes into effect at 794.5 above sea level. As of today's reading, the lake level was 794.75.
Skinner said there were some factors that might help the level recede quicker.
An inspection of the channel north of  the spillway just over the state line revealed a floating bog that may have been impeding flow over the spillway. The bog was moved.
The amount of flow over the spillway also was increased today when contractors that were reconstructing the spillway were able to cut away sheet piling so excess water can flow over.
Several citizens spoke during the meeting, expressing displeasure at the fact that boats will not be able to be fully used on the lakes this weekend.
Village administrator Jennifer Pollitt said the lake level will continue to be monitored daily, including the holiday weekend,  and the restriction lifted if it recedes enough.