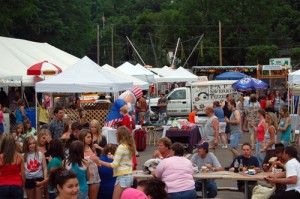 Twin Lakes Libertyfest will take place July 4 and 5 at Lance Park in Twin Lakes.
The event is organized by the Twin Lakes Area Chamber & Business Association.
Here is a schedule for Friday's events:
5pm-10pm~ Food Court and Shopping
5pm-9pm~Bingo by Genoa City Lions Club
5pm-9pm~Children's Games Open
5pm-7pm~ The Kyle Young Band (jazz/pop)
7:00pm~ Baggo Tournament (Teams or Blind Draw)
8pm-Midnight~Greg Brady Experience (Pop Rock)
Here is a schedule for Saturday's events:
11am~ Parade Starts at the American Legion,989 Legion Dr.
Ends at Lance Park downtown Twin Lakes
12pm-10pm~ Food Court & Shopping Open
12pm-9pm~ Children's Games Open
1pm~Pawfest
1:30-1:50pm Cardboard Boat Race Check-in
2:00pm~ Cardboard Boat Races
1pm-4pm & 5pm-9pm~ Bingo by Genoa City Lions Club
2:30pm-5pm~Twin Lakes Idol
4pm-5pm New Event Duck Races
5:30pm-7:30pm~Mandy Z (country)
6pm-8:30pm~Aquanut Ski Show
8pm-Midnight~ Megan Ruger from the Voice
Fireworks at Dusk
Here is some additional information about some of the featured attractions and activities:
Duck Races — New this year! Sat. 7/5 4-5pm. Purchase your ticket and watch to see if your duck wins. Tickets are available at the Chamber and several local businesses. Ticket price is $5.00 or 3 for $10.00. Prizes: $200, $100, $50, $25, $25,$25. Randall Fire Department will provide the track and the current for the Ducks to race.
PawFest — Sat. 7/5 12:45pm Registration. Contest 1pm Categories: Best Trick-Cutest little dog-Cutest big dog-Funniest looking dog-Oldest dog-Most obedient dog-Best patriotic costume. Awards donated by Keller Williams Premier Realty, prizes donated by Doggy Do's and Kitty's Too Pet Grooming. Richmond Veterinary Clinic will
Micro Chip dogs for $25. Registration Fee: $3.00 in advance; $5.00 at the event. Proceeds go to Tiny Paws Rescue and Twin Lakes Area Chamber.
Bingo — Friday 7/4 5-9pm and Sat.7/5 1-4pm and 5-9pm. By Genoa City Lions Club.
Twin Lakes Idol Contest — Sat. 7/5 2:30-5pm, Registration $5.00 at the Chamber or at the event. Prepare 3 songs, with Karaoke music or bring your guitar. Prizes $100, $50 and $25.
Cardboard Boat Races — Sat. 7/5 Registration 1:30-1:50pm. Races start at 2pm. Boat are made of cardboard and duct tape only. Any other materials used are for decoration only, Age Groups are: 5-8, 9-12, 13-15, 16 to adult. Children must be of age for the category by the day of the race. Only 2 people per boat. Bring your personal floatation devices. You will not be able to race without one. Prizes donated by Mad Dan's are $50.00 for the winner in each age group. Registration Forms & Kits are available at the Chamber. Kit and Reg. $25.00, Reg.only $15.00.