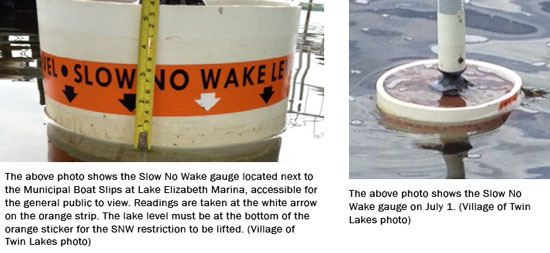 Lakes Mary and Elizabeth are expected to continue to be on slow, no wake status for the Fourth of July holiday, village administrator Jennifer Pollitt announced today.
As of a reading today, the gauge at the Lake Elizabeth Marina is 3.5 inches over slow no wake level.
"With an expected drainage rate of 0.5" per day, it is expected that Slow No Wake will not be lifted until next week," a village press release on the matter said.
Residents and visitors should expect the following for the July 4 weekend:
Both Lakes Mary and Elizabeth will most likely continue to be at Slow No Wake during  the holiday weekend.
Both lakes are open for boating (without wake), swimming, fishing, kayaking and other activities.
At this time, we do not anticipate to have Aquanut water ski shows on Saturday evening (both 6 p.m. and 9 p.m. shows). The sign will be posted (as usual) underneath the Aquanuts sign announcing whether or not the show will occur.
Libertyfest activities will continue as scheduled. SNW has no effect on the Cardboard Boat Races or Duck Race.