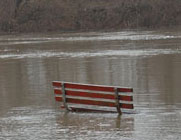 The National Weather Service has issued a flood watch for the Fox River in Kenosha County.
As of about 9 p.m., the river as measured at the New Munster gauge was at about 8 feet. The NWS predicts it could reach flood stage of 10 feet by Tuesday afternoon.
The watch is expected to be in effect until Thursday afternoon.