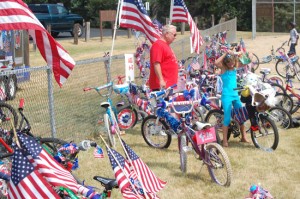 The 2014 Paddock Lake July 4th Bike Parade will take place July 4.
Line up will be at McAlonan Park on 248th Ave at 9:30 a.m. Parade kick off 10 a.m.
The route goes to village hall, where hot dogs, chips and a drink will be served.
Bring your best patriotic decorated bike. All participants will receive a medal for their effort
Would you like to participate in the bike parade on something other than a bike? Maybe a float or do you have a classic car you would like to show off? How about a band or a performance group? In an effort to make the parade bigger and more for everyone the village is looking for other types of entries other than the bikes. All you have to do is show up at 9:30 a.m. at McAlonan Park on 248th Ave and organizers will get you a spot in the parade. If you have any questions please call the village hall at 262-843-2713 Monday through Friday from 8 a.m. to 4:30 p.m.