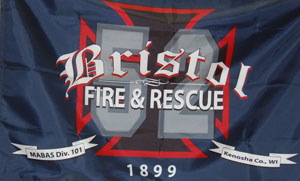 The Bristol Village Board on Monday authorized seeking bids for two new cardiac monitors for the fire department's ambulances.
Fire Chief Peter Parker made a strong case for making the purchase now, saying he would even forego replacement of an engine rather than wait longer on the monitors, which are about 10 years old.
"I do think it's time we replace this," Parker said. "It's a piece of equipment we use on every call."
Parker estimated the replacement cost to be about $50,000 for both monitors.
Newer monitors will allow Bristol ambulances to better share data from heart patients with area hospitals, Parker said. The monitors also are used for other functions, such as monitoring vital signs on nearly every transport to a hospital.
Parker had a quote in hand from a company he felt would be the lowest bidder and asked if the typical bidding process could be dispensed with, but board members wanted to stick to the competitive bid process.
Parker said he was willing to use money from the department's equipment fund if no other money could be found. But village administrator Randy Kerkman recommended that the monitor money come from undesignated fire department funds that are the result of savings from budgets over recent years. There is about $168,000 in that fund, Kerkman said.
The board liked Kerkman's suggestion and Trustee John McCabe included paying for the monitors from the undesignated funds in his motion, which was approved unanimously.
About the $168,000, McCabe said to Parker: "That's from fire department savings over the years? That's a nice job."