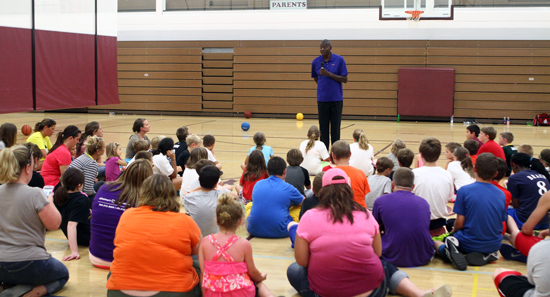 Bob Love visited Falcon Hoops Basketball Camp, Thursday. He spoke about the importance of education, and staying in school, working to achieve one's dreams. It's important to listen to your parents and coaches.
Love talked about being held back by his stutter and he overcame it and now he goes around and talks, and talks to lots of people. He's an example. He now does what he couldn't do before.
Even though he grew up poor as a kid, nothing can hold you back. It doesn't matter what you have or how big your school, the basket is the same size in every city.
Love is currently Director of Community of Affairs for the Chicago Bulls.
He wrote a book, The Bob Love Story: If It's Gonna Be, It's Up to Me
Find Yourself a Dream: The Bob Love Story in 2008, a documentary about him.
Love is the second Bull to have his jersey retired. He is third on the all-time Bulls scoring list with 12,623 points.