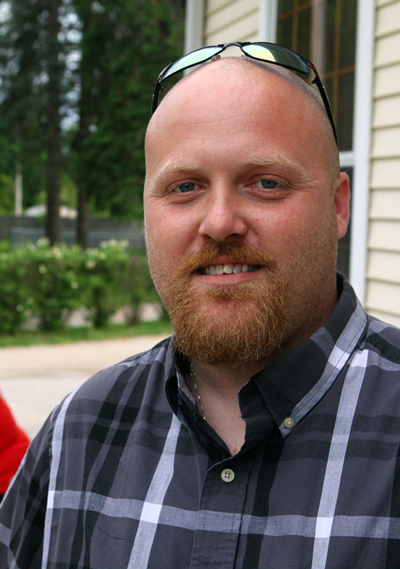 Silver Lake has a new fire chief. David Kordecki, Wheatland fire captain.
Dave Kordecki contacted board member Roger Johnson. Johnson says Kordecki is an excellent candidate for chief because "he's an impartial party, with no ties to this community, or stands to take sides, or act on someone else's agenda, other than his own. He has the support of his comrades from Randall Fire, Wheatland Fire and Chief Michael Slover. He has a vision and a plan for saving money, raising money, getting Silver Lake Fire Department up and running as a fully functional department." He also stated that Kordecki would like to Work with and strengthen a partnership with Silver Lake Rescue Squad. "He also wants to work with the board not against them."
Pat Dunn asked if he vetted him. He then read a list of encounters with the law, including operating without insurance, operating on a suspended driver's license, and disorderly conduct.
The discussion became more about the process than the candidate.
Sue Gerber, "no chief has ever been put through the hiring process."
Dunn "that's right, the fire department has always chosen…"
Gerber "the village board has the authorization and authority to appoint a chief to this fire department."
Dunn "We don't do backroom handshake deals in order to get somebody in charge of one of our departments."
Gerber "this was not a backdoor deal."
Dunn "When Roger Johnson takes an application from an individual without bringing it before the board, for an interview, for vetting, it is a backdoor handshake deal."
Gerber "is that something how you worked with Antioch?"
Dunn "I did not work with Antioch."
Attorney Linda Gray confirmed that they did have the authorization to appoint.
Michael Decker and Sabrina Moran expressed interest in knowing who the fire department selected. Pat Dunn revealed it was Allison Draeger, who has over seven years with department.
During citizen comments, former chief Roger Pattie said the fire department had selected a candidate. He said during the last 87 years, the fire department has always elected their chief. The board has never said no to the department's selection. "This board has never appointed a fire chief." Pattie said when he contacted Johnson last week, he was told it was too late.
Gerber "an impartial person needs to be brought in to this community to work things out. If we continue to filter different people from the same group of people, were just going to keep spinning our wheels and keep going with the same pattern we have been."
Motion by Johnson, second by Dodge, passed 5 – 2 Dunn and Decker.
After the vote, Dunn stated "This is a joke" as he got up and left.
Johnson stated the current fire department roster has 20 people, with 12 having Firefighter I or II certifications.
Kordecki said after the meeting that he isn't concerned with the legality of the appointment. If it isn't, he'll step step down. He isn't accepting the payment. His concern is moving forward. "We're going to get guys in these trucks, and were going to respond to Village calls."
Some of his qualifications:
FFI, FFII, Hazmat OPS, Driver/Pump operator, First Responder, Wisconsin DNR Wildland Fire Fighting certification, Wisconsin licensed sprinkler inspector.
A clarification. Fire will be responding for fire and rescue calls.