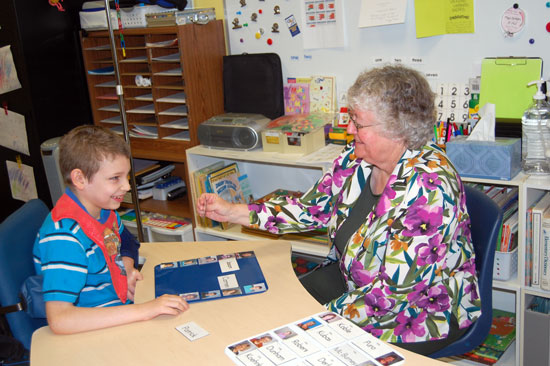 When Mary Dunham was a young woman babysitting the children of a neighbor who was a director of special education in Janesville, she didn't really think being a special ed teacher was going to be the career choice for her.
"I kind of fought him at first," said Dunham, of her neighbor's efforts to convince her to be a special education teacher. "I said 'no I don't think so.' But then I went to his classes and I fell in love with the kids."
And that would turn out to be a love for her work that Western Kenosha County children with multiple disabilities would benefit from for decades.
Dunham has worked for the Westosha Special Education Alliance-CESA 2 for 42 years. The recently completed school year was her last before her retirement.
Over the years, Dunham's class, which for most of that time included children with multiple developmental and physical disabilities, has been housed in various settings. Initially it was in the school building at Holy Name Catholic Church (now Holy Cross-West) in Wilmot. In the late 1980s it moved to Wilmot Grade School. After a few years there it moved to Randall School and about eight years ago it moved to Wheatland Center School.
The setting may have changed, but the mission really never did. Dunham and the aides (including the also retiring this year Eldonna Koehnke, Pat Haas and Bonnie Volbrecht) and therapists that worked with these students  were trying to realize potential in students that to the uninitiated may have seemed pretty limited. These were not students with a disability. These were students with multiple disabilities, from how they were able to learn or express themselves to how they got around. Many had very limited ability to speak and used a wheelchair or a walker to move.
"The philosophy was that everybody can do something and it was our job to find out ways to help them to adapt and achieve the potential they had … and to help them participate in family and community activities in whatever ways they were able." Dunham said. "It was all very individual."
And Dunham's ability to see that potential produced incredible results, though the measure of success might be very different than what you would find in a typical classroom or even many special ed classrooms. These results are not found on any standardized test. Results like successful toilet training that might have taken years of patient repetition to establish. Results like a child who learned to feed himself bite-sized pieces of a sandwich, despite being blind, with no verbal skills and disabled in most ways.
And while the chief beneficiaries of the efforts of Dunham and her aides and therapist colleagues were those students with disabilities and their families, there also were benefits for the  larger student populations of the schools in which the program was housed.
"It gave the (disabled) kids a chance to interact with regular education kids which I think was a benefit to both people," Dunham said. "And it gives them (the regular ed kids) a little sensitivity that the world needs.
Dunham is quick to praise those colleagues she has worked with through the years.
"It truly has been a partnership along the way," Dunham said. "Without the people I have worked with and the parents the things couldn't be accomplished that were accomplished. It certainly takes a group of us."
So did that love for special education sparked by that visit to Janesville all those years ago pay off as a rewarding career?
"I would say I am humbled and blessed that God has used me in partnership with really good colleagues and really good parents to effect the lives of really special kids," Dunham said. "And I really can't think of anything I would have rather done."