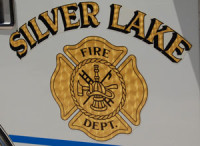 The Silver Lake Fire Department, as of this afternoon, again has one engine and one tender back in service.
Trustee Roger Johnson, chairman of the Village Board's Emergency Services Committee, said the tire installation that had put the trucks out of service has been completed. He has contacted Kenosha County Joint Services to again have Silver Lake Fire Department toned out for fire calls.
On May 21, then acting Fire Chief Roger Pattie said he was taking all of the department's the trucks out of service because of the age of the tires. He cited standards that would have called for the tires to have been replaced at least once by now. The old tires, regardless of mileage or outward condition, made the trucks unsafe to operate, Pattie said. The tires had not been changed since the equipment was purchased after a 1997 fire destroyed the firehouse and most of the equipment inside.
Johnson said at a Village Board meeting that further tire replacement — which could bring the other engine and the equipment truck into service — would have to wait until next fiscal year.