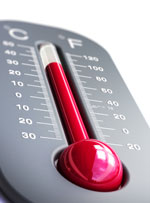 Heat can kill. That's why Kenosha County Emergency Management, Wisconsin Emergency Management, the Wisconsin Department of Health Services and the National Weather Service are reminding people of the dangers associated with extreme heat and to promote community safety and health.
June 12 is Wisconsin Heat Awareness Day.
In 2013, Wisconsin had 11 confirmed heat related deaths. Many of those victims were socially isolated maintaining little contact with family and friends. This is why it is vitally important to check in on family, friends, and neighbors during extreme heat, especially those who are particularly vulnerable, like families with very young children, the elderly, and people who are on medications that could make them more susceptible to injury from extreme heat.
In 2012, Wisconsin had confirmed 24 heat related deaths, most occurred during five days of Excessive Heat Warnings from July 2-6. The heat index rose to 105 F degrees for 48 hours with night time lows of 75 F. It was the second hottest and third longest heat wave in Wisconsin. None of the victims had air conditioning and they did not seek shelter at one of the many cooling centers which opened around the state.
In 2011, excessive heat claimed five lives and injured more than 100 people in Wisconsin during the July 17-21 heat wave. Once again none of those victims had air conditioning. The combination of the warm temperatures and high humidity caused the heat index to rise between 100 F and 117 F degrees.
Summer heat waves have been the biggest weather-related killers in Wisconsin for the past 50 years, far exceeding tornadoes, severe storms and floods combined. Heat is the number one weather-related killer in the United States. People at higher risk of a heat-related illness include:
Older adults, Infants, and young children
People with chronic heart or lung problems
People with disabilities
Overweight persons
Those who work outdoors or in hot settings
Users of some medications, especially those taken for mental disorders, movement disorder, allergies, depression, and heart or circulatory problems
People who are socially isolated and don't know when or how to cool off – or when to call for help.