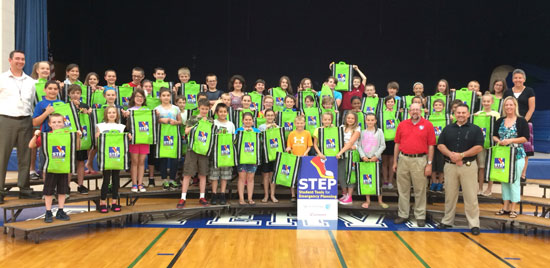 Over 50 fifth graders at Riverview School in Silver Lake learned how to be prepared to respond in the event of a disaster or emergency during an event at the school today.
The students are participating in the STEP, or Student Tools for Emergency Planning, program. The statewide program teaches 5th graders how to be prepared for various disasters and emergencies, how to assemble an emergency kit, and how to develop an emergency plan with their families.
"Emergencies and disasters can happen at any time to anyone, and that's why we think it is so important to prepare our students," said John Gendron, district administrator. "We're excited to teach the STEP curriculum and give our students the tools and knowledge they need in order to have confidence in an emergency situation."
This is the fourth year that STEP is being offered to schools in Wisconsin and the first year that Riverview School is participating in the program. This year, the STEP program is supported by a $15,000 AT&T Innovation & Investment Award, as well as grants from Walgreens and the Wisconsin Medical Society Foundation.
Students heard from Wisconsin Emergency Management (WEM) officials, AT&T representatives, Kenosha County Emergency Management officials, and state Rep. Samantha Kerkman (R-Salem) about actions they can take to be prepared in an emergency or disaster situation.
"When an emergency happens, it is critical that our young people know how to respond and act quickly," said Representative Kerkman. "Not only does STEP teach students how to prepare for emergencies, but it also encourages them to share that information with their parents and communities."
Nearly 150 schools from across Wisconsin are participating in the STEP program this spring. To view the list of participating schools by county, please visit: http://ready.wi.gov/news/2014/STEP2013-14SchoolRundown.pdf
AT&T has a long-standing commitment to disaster preparedness and business continuity, and is the first company in the nation to earn U.S. Department of Homeland Security (DHS) certification for disaster preparedness.
"We know how critical it is to be ready and prepared to respond in the event of a disaster or emergency," said Scott T. VanderSanden, president of AT&T Wisconsin. "Not only are we proud that our network operations are state-of-the-art when it comes to performing both during and after a disaster, but we are also proud to help prepare Wisconsin families to respond to emergencies through our support of the STEP program."
The STEP program provides teachers with all materials to teach the curriculum at no cost to the schools, including instructor guides, DVDs and copies of student handouts. All students participating in the program also receive an emergency kit to take home, which includes a flashlight, first aid kit and emergency blanket. The basic lesson is only one hour of instruction, but teachers can expand the lessons to cover eight hours of materials.
For more information on STEP, visit http://readywisconsin.wi.gov/step/.
This is the second year that the STEP program has been supported by a $15,000 AT&T donation. The AT&T Wisconsin Innovation & Investment Award program provides funding to local organizations that enhance and give back to their communities. The program is focused on awarding grants to organizations and programs that improve the community by advancing education, enhancing the environment, promoting economic development, or delivering other community services.