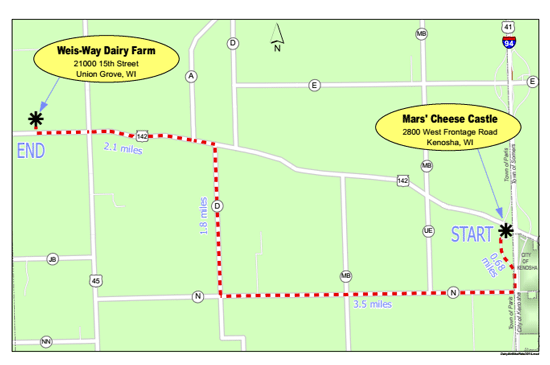 Kenosha County Executive Jim Kreuser is inviting people to participate in a free family fun ride to the Kenosha County Dairy Breakfast on June 14.
The DairyAir Dairy Breakfast Ride will begin at 7 a.m. at Mars' Cheese Castle, 2800 West Frontage Rd., Kenosha, WI 53144, for slightly more than 8 mile ride to the Kenosha County Dairy Breakfast at Weis-Way Dairy Farm, 21000 Highway 142 in Paris. It is about a 17 mile ride round-trip. The ride is moderately difficult with some hills. People are asked to use their best judgment and participate based on their own skill level.
The ride route from Mars' Cheese Castle is: South on West Frontage Road for .69 miles; Right on County Highway N/38th Street for 3.5 miles; Right onto County Highway D, 1.8 miles; Left onto State Highway 142 for 2.1 miles to the Weis-Way Dairy Farm.
The group ride will begin at Mars' Cheese Castle promptly at 7 a.m. Those wishing to ride back together, the group will depart at 9:30 a.m. from the Dairy Breakfast back to Mars' Cheese Castle. Water will be provided to riders before they depart Mars' Cheese Castle, when they arrive at the Dairy Breakfast and when they return to Mars' Cheese Castle. There will also be special bike parking and a tented rest area at the Dairy Breakfast for riders.
A Kenosha County Sheriff's squad car will follow the back of the pack for safety-purposes and there will be route marshals to direct riders.
There is no cost to participate in the ride or to tour the farm. Dairy Breakfast tickets are $6 for adults, children under 6 are free. For more information about the Dairy Breakfast, call 262-206- 8149.
Ride participants are asked to register by calling 262-653-2600, or email County.Executive@KenoshaCounty.org. To register, please provide names of riders and contact information.