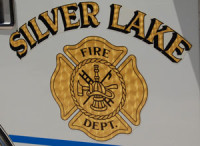 It should not exactly have been a surprise to anyone that has attended or read about Silver Lake Village Board meetings of late, but Wednesday's meeting included an argument over whether Silver Lake Rescue Squad personnel erroneously called off mutual aid response at a fire call at Riverview School on May 23.
Trustee Patrick Dunn alleged that a member of the rescue squad called off the mutual aid for the call after it was discovered that an alarm at the school was due to burnt popcorn. Such an action has happened before, and rescue squad leadership has said it would not happen again. Fire personnel are supposed to make that determination.
"We were assured by rescue that this would never happen again, but it has happened again for the third time," Dunn said. "I think something needs to be done."
Dunn also then called for village President Sue Geber's resignation because she directed Kenosha County Joint Services dispatch to stop dispatching SLFD after the  department's equipment was take out of service by then Fire Chief Roger Pattie  on May 21 because the tires on the vehicles were too old. Dunn contended Gerber overstepped her authority.

Gerber replied that she felt the communication to Joint Services dispatch was valid because the SLFD equipment was taken out of service. Fire personnel at Wednesday's meeting said they were willing to continue to respond with their own vehicles and gear, but Gerber dismissed that contention.
"No one responded that they could respond with their own vehicles and their own gear," Gerber said, "which would make no sense when we need a fire truck at the scene."
Then getting back to Dunn's first point, Gerber asked that a recording of radio transmissions from May 23 during the Riverview School call be played, which rescue squad Chief Bob Johnson did.
The recording showed a SL Rescue squad unit calling in as being on scene before the fire department. A later transmission indicated a police officer reported that he felt the alarm was pulled by a student and was false. That police officer later reports that the alarm appeared to be triggered by burnt popcorn. Pattie arrives on the scene and is heard calling off mutual aid response after verifying the cause for the alarm.
But after the playing of the recording, Pattie stood up at the meeting and challenged its accuracy.
"That is not a complete tape," Pattie said adding that while on his way to the school he heard a rescue squad member tell the Randall Fire Department and Town of Wheatland Fire Department to stand down.
"I wasn't the first one to do it and I was the only authorized fire officer on the scene," Pattie said.
Eventually the debate — including audience participation — got heated enough that Gerber threatened "to clear the building" if it continued.
No action was taken on Dunn's initial point and the meeting continued to committee reports.