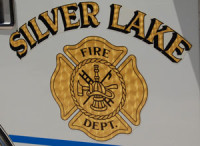 The Silver Lake Village Board agreed to purchase complete sets of new tires for the Silver Lake Fire Department's tender (tanker) truck and one engine.
But the rest of the department's equipment will have to wait for new rubber.
Trustee Roger Johnson, chairman of the Emergency Services Committee, presented two quotes for tires at the meeting. But he was acting on advice he received to replace the rear tires on the tender and the front or steer tires on the other equipment. Then the other tires could be replaced next year.
But Roger Pattie, the last designated fire chief, said from the audience that he felt a better plan would be to replace a full set of tires on the tender and one engine, rather than some tires on all of the equipment. The lowest bid was from Petrolube for about $5,900.
"If we're only going to do part of them, do one complete rig," Pattie said.
Johnson said he was open to that option, but warned it might change the cost.
The tire purchase was approved 6-0. Trustee Chris Willkomm abstained due to family connects to the company getting the work.
About $4,200 of the money needed for the tires will come from two rescue squads sold last year by the village. The rest will come from the fire department budget.