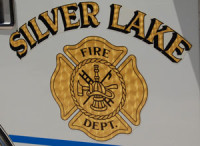 Whether the Silver Lake Fire Department apparatus will get new tires and head back out on calls may be decided Wednesday night.
The agenda for the regular Village Board meeting includes the item "Discuss/Possible Action on tires for Fire Department Vehicles." The item was placed on the agenda by Trustee Roger Johnson.
The condition of the tires has been a point of contention since the last meeting on May 21 when then acting fire Chief Roger Pattie said he was taking the trucks out of service because of the age of the tires. He cited standards that would have called for the tires to have been replaced twice by now. The old tires, regardless of mileage or outward condition, made the trucks unsafe to operate, Pattie said. A subsequent inspection of the tires by a consultant brought in by Johnson showed the tires to be in good shape and with sufficient tread depth. But the tires' age still raised a question as to whether the tires should be replaced.
Village fire trucks have not been responding to calls since Pattie declared the trucks out of service on May 21. The Kenosha News recently reported that in addition village President Sue Gerber instructed Kenosha County Joint Services Dispatch to not tone out SLFD for any calls and instead tone out Randall Fire Department and Town of Wheatland Fire Department for fire calls in Silver Lake.
Silver Lake Rescue Squad continues to respond to medical calls in the village.
Other agenda items of possible significance include:
From Trustee Patrick Dunn: Discuss/Possible Action on the Direct Legislation Petition.
From Trustee Patrick Dunn: Discuss/Possible Action Concerning Silver Lake Rescue Inc.
Due to an anticipated large audience, the May 21 meeting was held at Riverview School. Wednesday's meeting, according to the agenda posted on the village website, is still scheduled to be held at Village Hall.