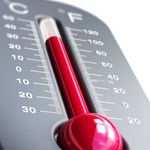 The high temperature around here should be a bit lower today, reaching the high 70s, says the National Weather Service forecast. But it also should be nice and sunny, if a bit breezy, with a west wind at 15 mph.
Tomorrow is a another  story. The high temperature should be a cooler 64 and there's a 70 percent chance of rain.
After that, temperatures should start to climb again back into the 70s. The next most likely chance for rain is Saturday night at 50 percent.