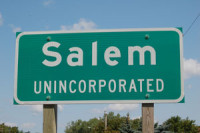 Salem town Clerk Cindi Ernest has distributed the following announcement regarding the formation of a committee to explore the incorporation of the town:
The Town of Salem Elector's, at their Annual Meeting, voted to form a committee to explore the concept of incorporation of the Town. This exploration may or may not lead to the Town pursuing incorporation at this time, but to explore all aspects of incorporation and report back to the Town Board and Elector's with a recommendation.
The Town Board is seeking individuals, from all walks of life, who are interested in serving on this committee. Interested individuals should complete the prepared application (available here) and return it to: Town Clerk's Office, 9814 Antioch Road, Salem, WI 53168 or via email to: cernest@townofsalem.net. For more information contact the Town Clerk.