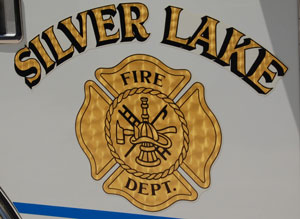 An inspection on Tuesday of the tires on the Silver Lake Fire Department apparatus showed all to have low mileage and sufficient tread depth.
But Trustee Roger Johnson, chairman of the Emergency Services Committee, said Wednesday morning that he still may seek replacement of the tires.
For now, the trucks are still considered out of service, Johnson said.
A technician from Emergency Apparatus Maintenance inspected all department vehicles Tuesday at the firehouse. Tires on all vehicles were found to have no cracks or missing pieces and had sufficient tread depth, Johnson said.
Mileage on the tires on each piece of equipment as of Tuesday was:
6118 Engine — 6,897.
6119 Engine — 12,382.
6156 Equipment — 11,471.
6167 Tender — 7,150.
All other aspects of the trucks were found to be OK by the inspector, save for some minor problems like lights that were out, Johnson said.
But despite the inspection results, Johnson said he is still considering having some or all of the tires replaced due to age. All the current major equipment was purchased after the 1997 fire that destroyed the firehouse and most of the equipment inside. The tires on the vehicles have not been replaced since they were delivered.
Last week, then acting Fire Chief Roger Pattie said he was taking the trucks out of service because of the age of the tires. He cited standards that would have called for the tires to have been replaced  twice by now. The old tires, regardless of mileage or outward condition, made the trucks unsafe to operate, Pattie said.
When the Village Board rejected a motion to contract for temporary fire protection service from Salem until November, Pattie resigned as chief. The village is currently seeking a chief. Johnson said he has been contacted by some candidates, but he has been concentrating on the tire issue first.
Johnson said regardless of whether the tires are replaced or judged sufficient for use he is hoping to have the trucks back in service by sometime Thursday.