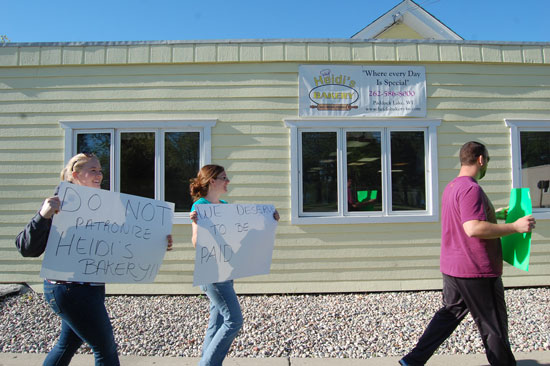 Former employees of  Heidi's Bakery in Paddock Lake (Note: Heidi's Bakery is a westofthei.com sponsor — DH) picketed outside the business this morning.
The picketers' signs said employees of the bakery have failed to be paid and asked people not to do business there.
At about 8 a.m., there were three former employees of the business on site, along with some spouses and friends. They said as many as eight others were expected throughout the day.
One former employee I spoke to said she had one pay check from the bakery bounce and another be refused by the bakery's own bank due to a lack of funds. Another former employee said she had waited from 3 to 7 days on more than one occasion to be able to get a paycheck for hours worked.
One of the former employees, Jessica Krueger, said the group obtained a permit for the picketing. Sheriff's deputies talked with the group Sunday morning about not verbally harassing bakery customers and staying on public property.
Mike Scheurstedt, the bakery's owner, said he did not know where the complaints were coming from.
"They all got paid," Scheurstedt said. "I don't know what's going on there."
Scheurstedt said he has had to lay off a number of employees for various reasons since taking greater day-to-day control over the whole operation about two months ago. He felt there were too many employees under other management and he recently made additional reductions to the menu that required further reductions in staff.
"All I did was reclaim my business," Scheurstedt said. "The business itself is really good."