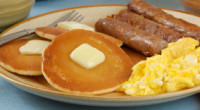 The Silver Lake Firefighter's Association will be hosting a pancake breakfast at the Fire Station 113 S. First St., Silver Lake, on Monday, May 26, from 6 a.m. until noon, before and after the Memorial Day Parade.
Served will be pancakes, sausage, eggs, and orange juice, milk or coffee. All you can eat for only: Adults $7 ; Kids (4-12) $4; 3 and under free.
The event will also include an auction.
Breakfast is to be served by local firefighters. Proceeds will benefit needy families in the community.