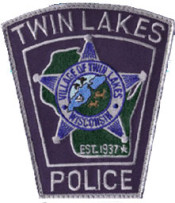 Two Twin Lakes Police officers can now add baby delivery to the many things they have done to serve village residents.
Officers Katie Hall and Jeffrey Comp delivered baby Justin at Highways Z and P, just a little west of the village limits, at a little after 3 a.m. this morning.
Here's the account from Chief Dale Racer:
On Wednesday, May 21, 2014 at 3:05AM, Officers Katie Hall and Jeffrey Cmp responded to a rescue call for a woman in labor in a vehicle on Hwy "z" (93rd Street) at Hwy "p" (388th Avenue) just west of the Village limits. Upon Officer Hall's arrival, she observed a vehicle parked on the side of the roadway, at which time the driver jumped out of the vehicle flagging down Officer Hall and yelling that his wife is in labor. Officer Hall entered the vehicle on the driver's side and observed the female in the front
passenger seat and that the baby's head had already started "crowning." The husband was on the phone with Kenosha County 9-1-1 Dispatcher Joan Zarletti who, through the husband, talked Officer Hall through the delivery and gave support. During the delivery Officer Hall observed that the umbilical cord was wrapped around the baby's neck and she immediately unwrapped the umbilical cord from around the baby's neck, and the baby was able to continue its venture into the world. Upon delivery, the baby boy was breathing and Officer Comp retrieved a blanket from his squad for Officer Hall to wrap the baby, letting the mother hold the baby until Rescue Personnel arrived. Twin Lakes Rescue conveyed the parents and baby "Justin", who are Twin Lakes residents, to Lakeland hospital in Elkhorn.
UPDATE 3:52 p.m. — Per Chief Racer: Parents Scott and Rachel Bakker report that Justin William Bakker weighed in at 8 lbs 7 oz and 20 inches long. Mother and baby doing well.