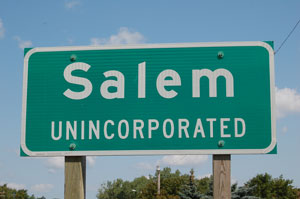 Salem Town Board members were the latest municipality to hear the Kenosha Area Business Alliance's request for  financial support for a study of where to locate a Western Kenosha County business park.
Board members at Monday's committee of the whole meeting were generally agreeable to spending no more than $3,000 to participate in the study, and talked about holding a special meeting on Wednesday to approve the expenditure. The board cannot formally act when meeting as a committee of the whole. But as of Tuesday evening, it appeared a meeting agenda had not been posted on the town website.
KABA officials say they would like to identify promising sites for a business park in Western Kenosha County. The non-profit economic development corporation would then purchase land for one or maybe two parks and market them to promising companies. The municipalities would contribute to the project by using tax increment financing to develop  needed infrastructure and realize tax benefits from teh new development.
While a lot of new industrial and warehouse business activity has happened in Kenosha County, most of it has been along I-94 in Kenosha and Pleasant Prairie. KABA sees Western Kenosha County as an opportunity to bring smaller but still sizable manufacturers into Wisconsin from Illinois, Heather Wessling Grosz, KABA vice president of economic development, said. These type of businesses likely could not afford to locate in a large industrial park such as Lakeview Corporate Park in Pleasant Prairie or Kenosha's industial parks.
"To move forward, we need to plan for the future," Grosz said. "We're also looking westward."
The town recently purchased 40 acres north of Highway C just east of the Trevor Fire Station/Highway Department complex for about $340,000. Grosz and town officials agreed this is likely the town's prime spot for business park development right now.
Several Town Board members expressed support for participating in the KABA study.
"Working with KABA and investing $3,000 will be money well spent," said Supervisor Dan Campion.
"We're all green here; we need some help," said town Chairman Diann Tesar.
But at least one official was a little more skeptical. Supervisor Dennis Faber pointed out that the town has spent considerable funds on planning in recent years and has the services of a top-notch planner. He said he would like to see the development come to Salem, but seemed to suggest that the town might be able to go it alone in attracting businesses.
"Salem is in my mind very unique," Faber said "I would like all of that development to come to Salem … We have a lot to offer for businesses that want to locate in Kenosha County."
Residents present at the meeting also expressed their opinions on the KABA study.
Salem resident Brian Filiatreault said for the small amount of money needed he felt it would be foolish for the town not to participate in the study. "Not to participate, kind of leaves you out in the cold," he said.
Salem resident Tim Squire asked the board to consider the big picture when considering economic development options. "One of the problems we have in this country is everything is about economic development," Squire said. "It's not just about the bottom line as much as we in America think it is."
Bristol has already committed to the KABA study. Twin Lakes was set to vote on joining the study Monday, but I don't know the result yet.
The Paddock Lake Village Board heard a presentation from KABA at its committee of the whole meeting last week, and generally was favorable to joining the study, said village President Terry Burns. However, he said he would like to see a formal agreement about the study before having his board vote on the matter.
Grosz said she was trying to get all approvals before June 1.