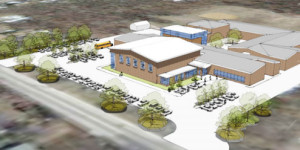 A recently awarded $400,000 learning center grant is a key part of what Lakewood School's administration and school board sees as its future.
But another part is passing the pending $5.9 million building renovation referendum next Tuesday so the building is ready for that new role, district administrator Joseph Price said Thursday at the final community forum regarding the referendum.
The Twin Lakes No. 4 School District Board is seeking  approval through the referendum for issuing $5.9 million in general obligation bonds for building improvements. Proposed improvements include:
Gymnasium replacement to accommodate 50 years of growth in the community.
Front entry for safety and security.
Upgrade of classrooms throughout the building.
Addition of two classrooms off the Cafeteria.
Enclosure of the Courtyard for safety and building efficiency.
The referendum will be held May 20. All eligible voters in the district can vote.
Officials say the tax impact on a home valued at $200,000, the average value in Twin Lakes, is $12 per month.
The third forum was focused on presenting the vision that the school can serve not just its students, but the community at large. A key element of realizing that mission will be establishing the learning center, made possible by the 5-year grant ($80,000 each year), Price explained Thursday. He has described it as "a robust after-school program that fosters community engagement and family involvement in education.
"We really believe this benefits everyone," Price said. ""Our mission is to serve the whole community, not just the students at Lakewood School. We're not looking to pass a referendum so we can have the prettiest car on the block."
Providing educational opportunities for students and others should eventually make the community more desirable, even raising property values, Price said.
"A lot of the time,  schools are very school-centered and they are viewed as a drag on the community," Price said. "We don't want that; we want Lakewood to be seen as a great benefit to the community."
Price expects to be able to provide additional student educational enrichment as well as GED and continuing education support to the community at large.
"This is going to be opening our campus to the community," Price said.
Price shared a personal story about the power of a good education, saying he was at first a reluctant student who had a less than ideal family life.
"By what research said in those days, I shouldn't be here; I should be working at a gas station," Price said. "But I had a great education. I defied those odds and the reason that happened is I had caring teachers, teachers who reached out to me."
He wants to see Lakewood in the position to make that same kind of life-changing difference in its students lives. By preparing them well for life beyond the walls of the school, they may even come back to the community and make a positive impact.
"That's the highest complement," Price said.