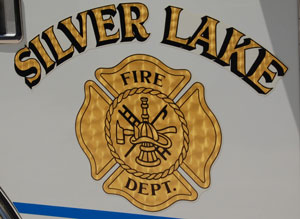 Silver Lake, still struggling through a manpower problem, is covered for fire protection by neighboring fire departments and interim fire Chief Roger Pattie has agreed to continue in the post for at least a little longer, Trustee Roger Johnson, who heads the Village Board's Emergency Services Committee, said Thursday evening.
Johnson said he has contacted  the Randall Fire Department and Town of Wheatland Fire Department and Pattie has contacted Town of Salem Fire/Rescue for agreement that those departments will cover fire calls in the village if the depleted Silver Lake Fire Department cannot respond.
"We're covered all the way around," Johnson said. "We are totally covered."
On Tuesday, SLFD Chief Andrew McFarlane retired citing difficulties in working with the village board and some village employees. He was replaced on an interim basis with Roger Pattie.
At a committee of the whole meeting of the Emergency Services Committee Wednesday night, Pattie said the department has just 14 members on the roster, six of which regularly respond to calls. With that staffing, he said the department was not in shape to respond to fire calls.
"This fire department is not ready to fight a fire today," Pattie said Wednesday.
Pattie recommended the Village Board contract with Salem Fire/Rescue for emergency coverage to at least November. When most board members hesitated to endorse that action, Pattie said he was resigning as chief and from the department. Johnson then asked Pattie to stay on board for 24 hours while the board explored its legal options, and Pattie agreed to do so. The key legal issue is a pending citizen legislation imitative set to be voted on in November that seeks to ban the village from contracting for fire and emergency medical services with Salem.
Johnson said he received an opinion from village attorney Linda Gray on the matter, but he had additional research to do, and he did not disclose what Gray said.
I could not reach Pattie for an update on his status Thursday evening, but Johnson said Pattie has agreed to stay on for the time being and that the two have a meeting set for tomorrow.