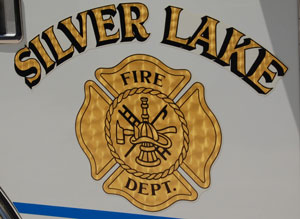 Silver Lake received its second resignation of a fire chief in about the last 24 hours Wednesday night.
But interim Chief Roger Pattie ultimately withdrew his resignation as chief and from the department and gave the Village Board 24 hours to explore if it could contract with Town of Salem Fire/Rescue for services until November.
Pattie delivered the resignation at a meeting of the Emergency Services Committee as a committee of the whole Wednesday night. The meeting was held to discuss the sudden retirement of Chief Andrew McFarlane, which was tendered to the board Tuesday via letter.
Trustee Roger Johnson, committee chairman, sought to assure the public that the fire department was functioning and residents were safe.
"Roger Pattie been helping us out right now," Johnson said. "We're going to put this fire department back together. We're going to keep this moving."
Johnson added that he had people telling him they were interested in returning to the fire department in the wake of McFarlane's departure.
But Pattie painted a grimer picture of the manpower situation. He said the roster now has 14 members, only six of which regularly respond to calls. One of those, Pattie himself, is qualified to be a command officer and only one other person was qualified to run a pumper.
"This fire department is not ready to fight a fire today," Pattie said. "My recommendation is to approach the Town of Salem for some kind of emergency agreement to cover us between now and November. That's the closest department and the most staffed and that is the best thing you can do for the citizens of this town."
Pattie acknowledged that a citizens legislation initiative on contracting for fire and rescue with Salem, to be voted on in November, might preclude an agreement with Salem. But he asked board members individually to respond to the hypothetical situation of if an emergency agreement with Salem was cleared by the village attorney, would board members be in favor of it. Trustee Patrick Dunn said he would, but after President Sue Gerber, Trustee Chris Willkomm and Johnson  all gave evasive answers Pattie said he resigned as interim chief and from the department.
When Johnson asked Pattie for some time to consult with village attorney Linda Gray about the legality of the emergency agreement with Salem, Pattie agreed to withdraw his resignation for 24 hours.
After the meeting, Pattie told me he is willing to continue to serve as chief if the emergency agreement with Salem is enacted.
Trustee Mike Decker and Carolyn Dodge were absent.