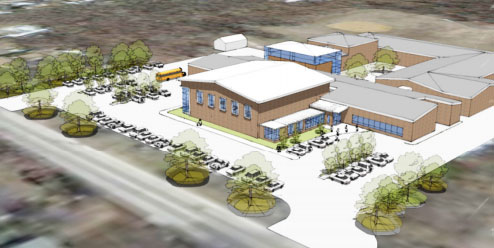 A vision that sees Lakewood School being not just a better school but also a community resource will be laid out at a community forum held at the school Thursday starting at 6 p.m.
This is the third and last in a series of community forums held since the Twin Lakes No. 4 School District Board voted to seek approval through a referendum for issuing $5.9 million in general obligation bonds for building improvements. Proposed improvements include:
Gymnasium replacement to accommodate 50 years of growth in the community.
Front entry for safety and security.
Upgrade of classrooms throughout the building.
Addition of two classrooms off the Cafeteria.
Enclosure of the Courtyard for safety and building efficiency.
The referendum will be held May 20. All eligible voters in the district can vote.
This forum will focus on presenting the potential, with the passing of the resolution, for Lakewood School to become not only a better facility for teaching its 4k-eighth grade students but also impacting the community at large. One such benefit might be to provide some adult learning. Another might be better preparing students so that they can later bring their knowledge back to the community.
"Our hope is that this investment the community hopefully is willing to make in us will be reciprocated in our investment in the community," said Joseph Price, district administrator. "It's not just a quick fix solution, pretty up the building and make it nice."
The proposed spending touches many parts of the building, but does not include a lot of new classroom space, Price said. The emphasis is to improves the school's educational experience and its ability to serve the larger community.
"We're not looking to expand and add a lot of classrooms and lure students with open enrollment," Price said. "We're looking to keep Lakewood, Lakewood."
The series of forums has been just one part of the school's efforts to educate the community about the proposed project that would be funded if the referendum is approved, Price said. The district also has had volunteers out going door-to-door presenting information about the referendum.
"Our Parent Teacher Organization is just phenomenal," Price said.
Much more information about the referendum is available here at the school's website.